The industrial internet of things (IIoT) refers to the network of intelligent devices connected to form systems that monitor, collect, exchange and analyse data. These interconnected sensors, instruments and other devices are networked together with computers' applications for various industrial sectors.
IIoT connectivity enables highly accurate data collection, exchange and analysis. IIoT ecosystems provide valuable information on how machinery is operating, which can then be used for predictive maintenance and the optimisation of business processes.
As the IIoT and evolving remote monitoring technology create more opportunities for automation by using cloud computing to enhance process controls, IIoT devices are set to digitally transform the face of industry, particularly in terms of production lines and supply chains.
The Quantum Shift
Quantum Cryogenics technology, including gas detection, cryogenics and logistics monitoring, has been at the forefront of industry, cutting across sectors including healthcare, energy and transport.
We understand that connectivity is the future, which is why we have developed smart remote monitoring technology that is ready to meet industry-specific needs within a highly connected world. We have integrated sophisticated device sensors into all of our product lines. This allows us to transmit data to our state-of-the-art CryoHub software, which enables a seamless remote monitoring experience – no matter the industrial sector.
Smart IIoT software solutions
CryoHub is a cloud based industry-leading data logging and alert system, developed to provide total hands-on control and remote web access capability. Essentially, it enables you to deliver data where and when you need it. Our bespoke CryoHub software has been developed in-house by our talented software engineers.
We have ensured real-time data is available on applications ranging from temperature monitoring of Biostorage vessels in a Cryobank, to tracking of tank fleets travelling globally. This helps to ensure true operational peace of mind, anywhere, anytime. CryoHub links with smart devices for Gas Safety, Cryogenic and Temperature Monitoring to deliver global planning and control solutions.
Explore nine ways AI is augmenting a new reality for industrial equipment.
IoT and Gas Monitoring Technology
Traditionally, gas monitoring companies have offered stand-alone monitors rather than an integrated approach to gas safety monitoring. Now, thanks to more effective and streamlined remote gas monitoring software solutions, industry players can access fully self-contained, protective smart gas monitoring devices from Quantum Cryogenics that provide 24/7 real time monitoring capabilities – even in the event of mains or control panel failure.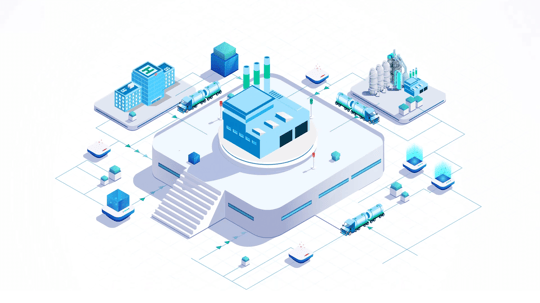 IoT and Cryogenic Monitoring Technology
Specialised control and monitoring equipment is available to operate at cryogenic temperatures. Low temperatures are managed with equipment that includes, level gauge, alarm and gas venting solutions, all of which, are fundamental to the delivery, storage and end-use of cryogenic liquids including nitrogen, oxygen and carbon dioxide.
The demand for cryogenic equipment is increasing with applications ranging from minimising perished goods in the food industry to maintaining the chemical efficacy of vaccines and pharmaceuticals in the healthcare and research industries.
Until recently, IoT has played a limited role in Cryogenics, but there is now an exciting new frontier of innovation in this field, with state-of-the-art IoT cryogenic monitoring solutions that can be fully integrated with existing tried and tested cryogenic solutions.
IoT and Temperature Monitoring for Logistics
Although digital thermometers have been in operation on tank containers and road tankers for many years, IoT Tank Thermometers are now paving the way toward full fleet management by sending real-time updates to communication gateways using Bluetooth or wireless technology.
Thanks to the latest remote temperature monitoring for Logistics, tank assets can be mapped across the globe on a minute-by-minute basis, ensuring that all tank contents from cryogenic through to hazardous arrive in optimal condition and fleets can be monitored live regardless of their location.
Access connected surveillance and monitoring solutions, wherever you are
Equipment access is now achievable, wherever you are in the world with our global CryoHub software, providing complete control and peace of mind. Our products and solutions are designed, built and tested in-house. Our production facilities, experience and focus on constant development allow us to integrate the most up-to-date electronic concepts with tried and tested industry techniques.
We set the standard in quality, reliability and innovation so that our customers can focus on their real business without having to worry about whether biological samples are safe, temperatures are correct, or laboratory vessels are empty.
With our globally connected smart monitoring solutions, we can help keep your people, assets and technology safe.
Your building blocks for the future
The effectiveness of an IoT system depends on the quality of the building block smart devices, alongside how they interact with each other to develop a scalable and flexible IoT architecture to collect, store and process data.

For companies wanting to expand their reach, global connectivity is essential. To illustrate the point, the healthcare, energy and transport industries operate internationally and involve temperature-sensitive materials which require carefully controlled environmental conditions.
While these industries desire international management, this reach is uneconomical if it comes at the expense of product inventory. Quantum IoT device sensors connect to the internet and provide the solution with real-time asset monitoring and management to ensure environmental consistency and process security, wherever you or your assets are in the world.
So, if you're ready to set yourself apart from your competitors with the latest that remote monitoring technology has to offer, visit Quantum Cryogenics and explore our globally connected smart monitoring solutions.
Blue sky thinking is what makes us, Quantum Cryogenics.
Smart devices, creative solutions, wherever you are.